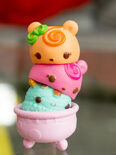 Nums are one half of the Num Noms series. They are larger creatures than the Noms and usually go on top of them. With their delightful scents and cute designs, collect all the Nums and mix-and-match them to your heart's content!
In series 1, Nums are styled after Cupcakes and Ice Cream and were either bunnies or bears.
Series 2 added a variety of foods, from additional ice creams and cupcakes, to more unique varieties like pizza and sushi. The animal species also included Cats, Dogs, Panda Bears, and Raccoons.
In series 3 the variety extends further to include fruits and vegetables, fiesta foods, and tons of candy. A glitter finish has been introduced to regular and special edition Nums, as well as a light-up spin off series and new facial expressions. A monkey Num is added to the list of species.
In Series 4, the brand returned to it's sweet roots to include subcategories within the various types, ranging from cakes, cookies, frozen drinks, and even Pasta dishes. Series 2 of the Lights also return, as well as a new spin-off series known as Snackables Collectable Cereal, a collab set with the frozen yogurt brand Menchies, and special collector sets.
Series 1
Ice Cream Nums
Cupcake Nums
Series 2
Cupcake and Ice Cream Nums
Brunch Nums
Pizza Nums
Sushi Nums
Diner Nums
Fair Food Nums
Freezie Pop Nums
Jelly Bean Nums
Series 3
Glazed Donuts
Fresh Fruits
Veggies
Marshmallows
Hard Candies
Fiesta Foods
Lights Series 1
Snow Cones
Gummies
Freezie Pops
Series 4
Cookies
Fancy Cakes
Creme Filled
Creamery
Baked Goods
Pasta
Lights Series 2
Gummy Bear
Hard Candy
Rock Candy
Striped Candy
Slushie
Series 5
Jelly Rolls
Croissants
Crepes
Bread Rolls
Marble Ice Cream
Marshmallow Squares
Lights Series 3
Gum Drops
Fancy Jellies
Jelly Beans
Jelly Cups
Series 6
Flans
Exclusives
Menchies
Mystery Sweet Treats