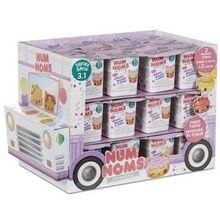 Series 3 is the third release of new Num Noms characters. This series was the first to officially introduce waves - all packs had either 3, 3.1 or 3.2 marked on them, which determined the characters available inside. Series 3 also added a wide new variety of Nums, most notably the Donut, Fruit, Veggie and Candy styles. It marked the first breakaway from the traditional cupcakes and ice cream characters.
Packs
Series 3
Series 3.1
Series 3.2
Characters
Nums
Donut
Fruit
Veggie
Marshmallow
Candy
Fiesta Food
Noms
Erase-It
Gloss-Up
Stamp-It
Collector Menu
Community content is available under
CC-BY-SA
unless otherwise noted.